Reporters Note: The summer season is long a memory, the winter holidays are over and the Hamptons are relatively quiet until Memorial Day…time for an escape and I think Spring is a perfect time for the Caribbean! Spring is the start of their off-season and there are great resort and hotel values to be found. I have visited the island of Sint Maarten/Saint Martin for years, but I decided to make my last trip a working vacation by writing a three-part destination piece on this half Dutch/half French paradise that I truly love, concentrating solely on the French side of the island, Saint Martin, this time around.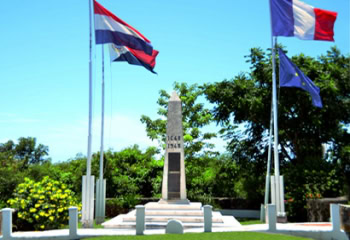 A four hour flight from NYC, for many years only American Airlines and Jet Blue served the island. Now several more air carriers fly non-stop to Princess Juliana Airport located on the Dutch Side, but I highly recommend Jet Blue. The fares are fabulous and I have always found the airport staff and flight crew attentive and highly professional. You need to rent a car while on the island, however wait until you arrive then stroll the counters of the independent local car rental agencies and negotiate for the best price. There is a second airport on the French side, Airport de L'Esperance, appropriate for private jets flying out of East Hampton Airport and NYC.

Part One: Grand Case
Located on the NNW coast, first and foremost this town has the largest concentration of gourmet restaurants on St. Martin, perhaps in all the Caribbean. It is foodie central on the island! There is a horseshoe strip of beautiful albeit narrow beachfront that is graced by gentle breezes. The town is quaint and there are numerous shops and galleries. The sunsets in Grand Case are legendary, particularly known for the "green flash" that occurs the moment the sun sinks into the sea.


There are several fine hotels and resorts in Grand Case, but in my opinion none surpass the Grand Case Beach Club. Intimate and understated, this walled and security gated gem of a resort was an unexpected surprise during my four hotel stay on the island. This hotel has not only a beautiful beach front, but lust gardens with the most stunning bougainvillea climbing the walls of the resort.

Our Loft Studio, like most of the rooms, had a spectacular view of Grand Case Bay, the Caribbean and the island of Anguilla. The décor and palette was appropriately light and airy with tropical touches in the appointments. The living area was lovely with a pull out sofa/bed, arm chairs, a flat screen TV, third-floor veranda and WiFi is available throughout the resort. Our loft bedroom had a king bed with linens that were luscious, a full dresser and another flat screen TV. We had a full kitchen that was well stocked for in-room cooking, but frankly why anyone would eat-in when in Grand Case is beyond me, particularly since the Grand Case Beach Club is less than a 10 minute walk from Restaurant Row, Grand Case Boulevard.

The resort has a pool, fitness room and tennis court, along with water sports like wakeboarding, waterskiing, snorkeling and scuba diving. Of course, there are chaise lounges, umbrellas, cocktail and food service and definitely try a beach massage from one of the local practitioners, which can be arranged with the front desk.

There is a complimentary continental breakfast served each morning in the resort's Sunset Café, which is transformed in the evening to a beautiful white linen, candle-lit alfresco restaurant with sunset views that are as spectacular as the cuisine. I highly recommend the Escargot cooked in a Roquefort fondue served in light, flakey pastry and the Island Fish Carpaccio for starters. The Mahi-Mahi filet in lobster cream sauce was delicious and cooked perfectly and my Grilled Beef Tenderloin topped with brie was simply superb, accompanied by the best gratin potatoes I had during my trip. The wine list is more than adequate, as we enjoyed a lovely 2010 Joseph Drouhin Rully. Save room for dessert, particularly the perfectly executed Crème Brulee with a nice thick crust and a Pineapple Carpaccio soaked in ginger sauce with peanut ice cream that had Lily literally shaking in her chair with delight.

Beyond all the aforementioned accolades, perhaps the most stunning aspect of my stay at the Grand Case Beach Club was the warm, friendly, caring staff that made our stay one of the most memorable of all my years in St. Martin. Charming and genial Brit-born General Manager Stephen Wright has infused this French side resort with pure British hospitality and leads what I will call a "family" rather than a staff of Grand Case Beach Club employees that never pass a guest without a "Hello, are you having a nice day?" or an "Is there anything you need?" I highly recommend this wonderful, affordable and intimate boutique resort for any Hamptonian visiting St. Martin. (www.grandcasebeachclub.com)


Getting back to the culinary oasis that is Grand Case, there are dozens of restaurants representing as many cuisines with French, of course, the most dominant. Our second dinner in Grand Case during our two night stay was at Ocean 82, at the location of the now gone Fish Pot Village Café. Like all the restaurants on the north side of Grand Case Boulevard, this beautiful dining room opens onto the bay. You are literally dining waterside with the sound of soothing lapping waves and a beautiful Caribbean vista complimenting your culinary experience.

We opened with a delight that I can never resist, Foie Gras! The homemade duck liver pate stuffed with fig preserve at Ocean 82 is indeed celebrated and we coupled it with Moules d' Espangne. The large Spanish mussels were perfectly gratinated in garlic butter. We did a double dose of appetizers also trying the Escargots in puff pastry in a garlic pesto sauce and Smoked Marlin Carpaccio, both excellent.

For our main course I had the Braised Lamb Shank with a white wine, rosemary and honey sauce and Lily had the Seared Duck Breast with figs and caramelized balsamic vinegar reduction, fantastic on both counts! The wine list at Ocean 82 is substancial and each course was paired beautifully with a selection by owner Romain. No room for dessert this visit, we opted for the Assorted Cheese Board that was served with a balsamic salad with grapes and walnuts. A perfect end to a perfect meal, I highly recommend Ocean 82. (www.ocean-82.com)

Among other popular restaurants I have dined at in Grand Case include Auberge Gourmande with a décor that is pure Paris Latin Quarter in a classic Creole cottage, the Blue Martini Bistro which has a lovely back garden that features live music most nights, and Piazza Pascal for the best Italian cuisine on the island as Italian decent/Paris born and raised Chef Pascal Paviani and his American wife Donna have created a beautiful restaurant with an exquisite French accented Italian menu. These are but a few of the fine restaurants that make Grand Case the gourmet capital of the Caribbean and do not miss the chance for some native BBQ from street vendors called "Lolos."

For the adventurous, driving inland from Grand Case one can experience the best views of the island from its highest point, Paradise Peak. Park your car at the end of the road, literally in front of a gated private home on a dead end, and make the climb. However, do not leave any valuables in your car, which is true for any vacation destination. Not far from Paradise Peak is the Loterie Farm Hidden Forest eco-preserve. This tree top adventure park with the Fly Zone zip line, elevated walkways, hiking trails and the Hidden Forest Café is a must, particularly for families with children visiting the island. (www.loteriefarm.com)


South of Grand Case is the town of Marigot, which is the Capital of the French side. Here you will find great local specialty and international brand shopping, fine dining along the Marina Royale, great people watching and nightly boat racing, which is a unique activity particular to Marigot that can only be experienced rather than described. The architecture is historic and colorful and the open air fresh produce markets are pure Parisian. A great view of Marigot Bay is from the summit of Fort St. Louis, built in 1767 it is the oldest historical monument on the island.

Farther south of Marigot is a populated "stretch" rather than what I would call a town known as Sandy Ground, imagine Ditch Plains between Amagansett and Montauk but with some shops, beach front attractions and restaurants. A narrow strip of land that separates the Caribbean from the Simpson Bay Lagoon, there are two restaurants in Sandy Ground that we consider a must when in Saint Martin: Mario's and La Santal. Believe me; you need to make a reservation at these two restaurants before getting on your Jet Blue flight out of JFK.

Now is the perfect time for a trip to Saint Martin, particularly Grand Case which is in the midst of Harmony Nights, an incredible nightly street festival featuring live music, dancing, local artisan craft tables and dining specials up and down Grand Case Boulevard. Harmony Nights runs though Mach 30th, so before the next snowfall pack your swim suits and sunscreen, book a flight on Jet Blue, a stay at the Grand Case Beach Club, and a week's worth of reservations at the best restaurants in the Caribbean. Vive Saint Martin, Vive la French Side!



Next Part Two: The secluded Anse Marcel cove with its Radisson Blu and La Domaine de Lonvilliers resorts and Orient Beach.