An exclusive Maisonette summer pop-up is hitting the Hamptons at Serena & Lily's from Wednesday, August 8 through Saturday, August 18. The premier one stop e-tailer for kidswear, décor, furniture, accessories and toys will host a series of events, debuting all-new products with exclusive activities in advance of the back-to-school season.

Maisonette was founded by Sylvana Ward Durrett and Luisana Roccia de Mendoza who are both former Vogue editors. They have curated a stylish selection of essentials for the fall season. Each day of the pop up will feature a variety of fun activities for mommies and their minis including face painting, manicures, and pool parties in collaboration with Essie, Beauty Counter, Equinox, and Sunny Life. Former model and mother of two Karolína Kurková will debut her new probiotic line for children, Gryph & IvyRose, for guests to get a sneak peek at her new brand of herbal blends.

We caught up with co-founders Sylvana Ward Durrett and Luisana Roccia Mendoza to hear more about their pop-up at Serena & Lily.

How did your positions at Vogue influence Maisonette?

SWD: Our time at Vogue provided invaluable experience which helped us immensely as we began to dream up this business. As editors, we honed our eye for beautiful, high quality clothing and objects. When it came to curating the assortment for the site, we knew exactly what we were looking for. Plus, working in such a dynamic, fast-paced environment accustomed us to think fast on our feet, and stay committed to our vision as we began to build this brand.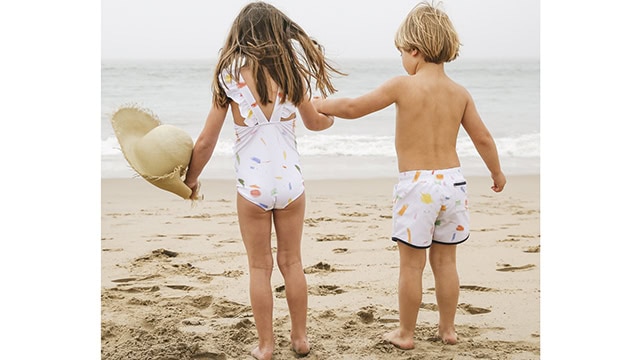 What are some of your favorite pieces in the pop-up?

LRdM: It's so hard to choose! We've loaded up on some of our favorite summer and back-to-school pieces from Caramel, Aviator Nation, and Los Encajeros, to name a few. Some poolside favorites include googles from Bling20, and our adorable doodle swimsuit by Minnow Swim. Plus, we've got some awesome home items, including a colorful assortment of Stokke Tripp Trapp chairs."

Why did you choose the Hamptons as a pop-up location this summer?

SWD: We saw great success with our Hamptons pop-up last year so when our friends at Serena & Lily invited us to pop-up in their space, we were thrilled. They have been so supportive in helping us fulfill our vision, which includes not just a beautiful shop-in-shop, but also a jam-packed program of daily activities for parents and kids alike!

What are some of your favorite Hamptons pastimes?

LRdM: For us, the Hamptons is all about family time; visiting Serene Green Farm stand and choosing fresh fish and local veggies to throw on the grill with the kids, endless beach days spent with family and friends, sunset at the Wolffer Wine Stand – there is so much to do, but you can also choose to do nothing at all, which sometimes is just as nice!

Serena & Lily is located at 332 Montauk Highway in Wainscott. For more information, visit www.maisonette.com.