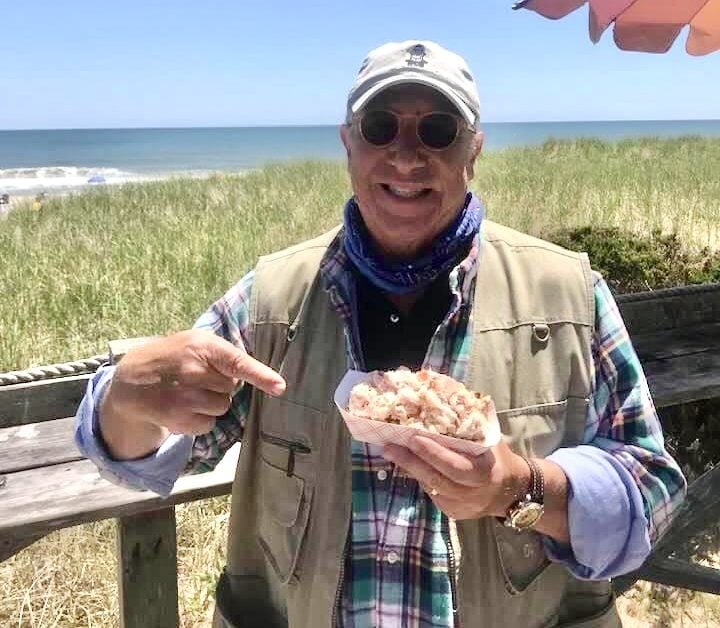 I am literally creating this Sixty-Something column on my sixty-ninth birthday. Therefore, I am picking one of my favorite topics to write about from over the years. That topic is lobster rolls. Back in 2004 I received my introduction to east end Lobster rolls by being sent to write an article about sampling lobster rolls at a venue in Montauk (Nick's) that no longer exists. What can I say, it was a great assignment.

You either love lobster rolls or you don't. It is a matter of being able to enjoy that unique lobster taste in every bite. In the end for some folks like me, when talking about the ultimate summer afternoon lunch, it is all about lobster rolls. One can always get a good lobster roll at many places on the east end. I suppose we all have our favorite venues. My favorite venue is Marie Eiffel's on Shelter Island, however quite frankly there are a least a dozen other places where the lobster rolls are perhaps equally as good.

I love having one at the Beach Hut at Atlantic Beach in Amagansett or Main Beach, East Hampton. Sitting there right at the foot of the ocean on a summer day enjoying a chilled lobster roll is as good as it gets. Traditional trips to LUNCH/The Lobster Roll or the Clam Bar on the Napeague stretch are always fun, along with stops at the Dock House in Sag Harbor. My problem is these are all "seasonal" venues. Good news, Sundays on the Bay in Hampton Bays sells them all year round. If you sit at the bar there, you can watch the winter Atlantic Ocean right through the window behind the bar as you enjoy a lobster roll.

When talking lobster rolls the debate seems to circle around what is the best or "true" lobster roll. Is it the hot one with warm butter, or the chilled one with mayo and celery? Again, it is a personal choice situation. However, I have my own mantra. That being, if it's cold out, I like a warm lobster roll with warm drawn butter. On hot days of course I want a chilled one! Either way I always enjoy them with an extremely cold bottle of beer.

I must share this story. A few years back I was assigned to cover the North Fork TV Festival. That year they were honoring Kelsey Grammer. The main event was at the theater in Greenport. I arrived early to sample a wonderful lobster roll at the famed Claudio's. I sat at the bar and totally indulged in a wonderful lobster roll, fries, and a really cold Guinness Stout. Then I attended a few TV pilots at the TV Festival along with the presentation to Kelsey Grammer. His talk was hilarious. Following the presentation, there was an exclusive cocktail party on the outdoor Claudio's Dock!

I was talking to one of the folks I had interviewed to promote the event for hamptons.com when all of a sudden, I noticed what was a small army of servers approaching. I looked on in shock as each server had a huge platter of mini lobster rolls. Having had a huge one only three hours earlier what was I to do? I only sampled a few, but they were awesome.

I remember hearing folks there actually saying they had never sampled a lobster roll. It was fun to watch the look on their faces as their brain processed the wonderful taste of a lobster roll.

The apex of the 2021 holiday season is at hand. This is also the start of my last year as a sixty-something dude. Hopefully, it will be one of my best! Who knows maybe next year on this day I will pen my first Seventy-Something article?