A special iteration of the beloved Women's Show will take place at Ashawagh Hall in Springs from Friday, May 7 through Sunday, May 9.
The late Vito Sisti curated the inaugural Women's Show back in 2003. It shined a spotlight on a small group of women artists. Eventually, the event grew over the years to provide an opportunity for several female artists, whose expertise ranged from photography to collage to painting to sculpture, to show their works off to the community.
Karyn Mannix of karyn mannix contemporary is organizing Vito Sisti's 16 Women Revisited. "When I was asked to organize the Vito Sisti's 16 Women Revisited Show, I was honored to keep the legacy alive," Mannix explained.
The reunion show will include works by Abby Abrams, Beth Barry, Eileen Hickey, Elaine Grove, Joanlee Montefusco, Karin Padden, Karyn Mannix, Kate Nicholai, Lisa Weston, Mary Antczak, Nina Bataller, Rosalind Brenner, Sally Richardson, Setha Low, Susan Carlo, and Teri Kennedy.
"It's empowering to work with this talented group of local women and place them all under one roof," she noted.
Sisti moved out to the East End during the 80's while fulfilling his coast guard duty. The mechanic had no conventional art training, but set out to combine his adoration of artists, women, and community through the exhibitions he organized. His first show was one to remember. Dubbed Fine Arts & Auto Parts, it was held during Hurricane Bob in 1991. Since the electricity was out, attendees who wanted a better view of the art actually had to take it off the wall and bring it outside. The laid back vibe was complete with a keg of beer and grills to cook. Many Springs community members ended up stopping by over the course of the next couple of days to cook up whatever they had in their fridge so it wouldn't go bad. That earned Sisti legend status among those who were there or heard about the fête. The Women's Show was established a few years after that. Throughout the years, Sisti was deeply involved in the Springs community, serving on several community boards and always lending a helping hand whenever called upon.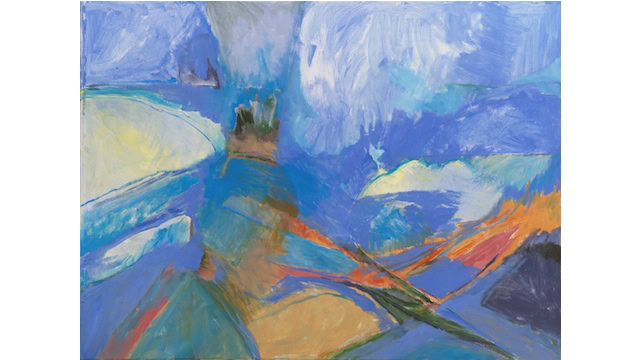 "The work is as diverse as the 16 women involved," Mannix said about the reunion show.
An opening wine reception for Vito Sisti's 16 Women Revisited will be held on Saturday, May 8 from 5:00 p.m. to 7:00 p.m. The exhibition will be open to the public on Friday, May 7 from 12:00 p.m. to 5:00 p.m., Saturday, May 8 from 9:00 a.m. to 7:00 p.m., and Sunday, May 9 from 11:00 a.m. to 4:00 p.m. Masks are required.
Ashawagh Hall is located at 780 Springs Fireplace Road in East Hampton. For more information, visit www.karynmannixcontemporary.com.