Hampton Theatre Company (HTC) will wrap up its 2016-2017 season with Michael Frayn's Alarms and Excursions at Quogue Community Hall.

Alarms and Excursions consists of a collection of hysterical mini plays, which Variety called "dizzyingly funny," that explore how innovative technology that is meant to better our lives can actually be a complete and total nuisance, like when you're out and there's a constant buzzing or beeping noise that never seems to stop – making you wish that someone would just address that damn phone, alarm, or whatever's making that irritating sound.

Charles Spencer of The Telegraph said that Alarms and Excursions is "enormous fun," noting, "It is not just that the characters are at the perpetual mercy of inanimate objects, it is their own failure to communicate with each other that causes a shiver."

Four Hampton Theatre Company veterans – Andrew Botsford, Rosemary Cline, George A. Loizides and Jane Lowe Baldwin – make up the talented Alarms and Excursions cast. HTC Artistic Director Diana Marbury will direct the production which features a set design by Sean Marbury, lighting design by Sebastian Paczynski and costumes by Teresa LeBrun.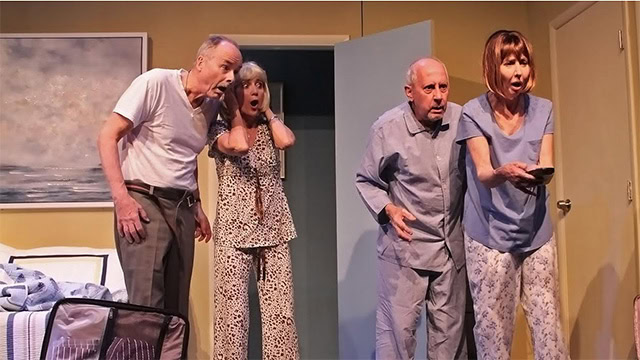 Alarms and Excursions will run from Thursday, May 25 through Sunday, June 11, with performances on Thursdays and Fridays at 7 p.m., Saturdays at 8 p.m. and Sundays at 2:30 p.m. An additional matinee performance will be held on Saturday, June 10, at 2:30 p.m. and on Saturday, June 3, HTC will present a special benefit performance of Alarms and Excursions with a special cocktail reception and buffet following the performance at the Quogue Field Club.

Additionally, Hampton Theatre Company has once again partnered with local libraries to offer special Dinner (& Lunch) and Theater Packages.

Tickets range from $10 to $30.

Quogue Community Hall is located at 125 Jessup Avenue in Quogue. For more information, call 631-653-8955 or visit hamptontheatre.org.