There is always a certain magical buzz to a live performance to shows of the Christmas/holiday season content. A Christmas Carol, A Live Radio Play, adapted to stage by Joe Landry based on a novella written by Charles Dickens now being presented by Southampton Cultural Center's "Center Stage" is such a show. With an intimate feeling of actually being a guest at a live radio broadcast back in 1948, this production is personally powerful – as if you were watching in a cozy room as opposed to a theater.

Once again the iconic talent of Michael Disher's directing vision is on display. In this production the cast portrays a host of late 1940's personalities as well as various roles in the "on the air" broadcast of A Christmas Carol. Again Daniel Becker shines with his usual, strong, forceful performance as Ebenezer Scrooge. Barbara Jo Howard plays a whole host of parts, all under the persona of Lana Sherwood. Ms. Howard's performance brought back memories of Lauren "Betty" Bacall in so many ways. I met and interviewed Ms. Bacall a decade ago and every time Ms. Howard went into character I heard Ms. Bacall's earthy, witty voice in my mind.


Christopher Disunno, Joey Giovingo, Deb Rothhaug, Ken Rowland, and Gerri Wilson all are wonderful playing so many characters changing their voices and personas in front of 1948-styled radio broadcast microphones. I am singling out Richard Gardini because of the way he touched the audience with his portrayal of Bob Cratchit. And yes, I noticed the appearance of Michael Disher himself, in an unscheduled yet skillful appearance as the Ghost of Christmas Past. In fact, Mr. Disher was the costume designer, and I enjoyed the late 1940's attire on all the actors.

As for the show as a whole, the audience loved it. The presented simulated radio broadcast was broken into three sections with two retro-radio commercials used to separate the parts. The retro-radio commercials were hilarious with witty writing and the actors definitely were enjoying doing them. With harmonic jingles and sound effects, they had the audience roaring with laughter and enthusiastic applause when they concluded.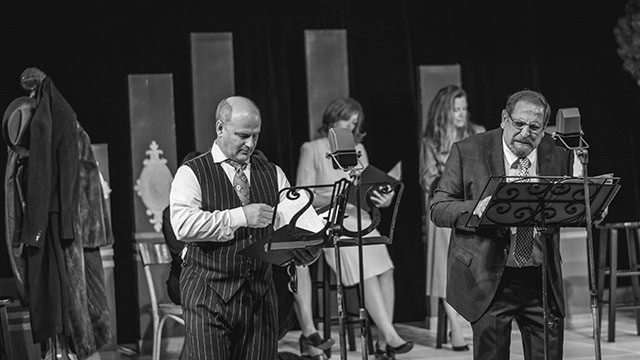 The message of A Christmas Carol is an important message, written by Dickens, in an era of child labor abuses and terrible working conditions in Mill factories in England. Dickens zeros in on the cold business owners only caring about profit numbers and not realizing employees are actual people with actual lives. Sadly, I for one feel our society is once again heading in that direction and that is why a production of A Christmas Carol is important to see at this time. The show is one hour long and it was the quickest hour of theater I have every attended. This means it moves with energy so often missing in today's theater.

A Christmas Carol, A Live Radio Play, will be presented at the Southampton Cultural Center on Thursday, November 30, Friday, December 1, Saturday, December 2, and Sunday, December 3. Tickets range from $15 to $65.

Southampton Cultural Center is located at 25 Pond Lane in Southampton. For more information, call 631-287-4377 or visit www.scc-arts.org.