Head to The Montauk Beach House (55 South Elmwood Avenue, Montauk, 631-668-2112, thembh.com) on Thursday at 8 p.m. for a screening of Drew Maloney's Time & Tide, which was shot in New York and showcases some of Montauk's own. The film highlights the surfing community's talent both behind the lens and in the sea. Gustav Torling is spinning on Friday from 3 to 7 p.m., while on Saturday, Orchard Mile, the luxury digital marketplace, will partner with The Montauk Beach House to celebrate summer in the Hamptons with a weekend pool party event from 1 to 7 p.m. Attendees will enjoy music by guest DJs Mackan Lindstrom + Rosanna Munter, an Orchard Mile VIP Cabana and a complimentary dry styling bar by Oribe Hair Care (starting at 2:30 p.m.) Saturday will also feature an agave spirit filled soiree with Herradura Tequila from 1 to 4 p.m.

The Backyard Restaurant at Solé East (90 2nd House Road, Montauk, 631-668-2105, www.soleeast.com) will host a Reggae Night on Thursday from 6 to 9 p.m. and Nancy Atlas on Friday from 6 to 9 p.m. Saturday will feature Guest DJ Tyler Davis poolside from 1 to 8 p.m. and DJ Olivier from 8 p.m. to 1 a.m. As per usual, stop by on Sunday for a Bossa Nova Brunch with Marcello and Ludmilla from 11 a.m. to 1 p.m. Later on, Water Life Montauk with Whalebone is presenting BBQ, Music, Movies and Boards from 5 to 10 p.m. The evening will also include the chance to learn more from leading conservation groups like Surfrider Foundation and Renewable Energy Long Island (RELI) and from Corporations like Deep Water Wind about Long Island projects.

Thursday at Stephen Talkhouse (161 Main Street, Amagansett, 631-267-3117, stephentalkhouse.com) will feature Pure Prairie League at 8 p.m. and The Gary Douglas Band at 10 p.m. Friday will bring Martin Sexton at 8 p.m. and Rubix Kube at 10 p.m. Saturday will showcase Ben Langer at 8 p.m., Ransom Pier at 9 p.m., and LHT at 11 p.m. Catch Southside Johnny & The Poor Fools on Sunday at 8 p.m. and U.R.I – Under the Rasta Influence – at 10 p.m. Make it a memorable Monday with East End Music Masters with Bakithi Kumalo Tour at 7 p.m. and Outrageous Open Mic Night at 10 p.m. Mountain Wave kicks Tuesday off at 8 p.m., and then it's time for Industry Night with Hot Date Band at 10 p.m. On Wednesday, Jen Hellman is hosting Harlequins In The Hamptons comedy show with headliner Tim Dillon at 8 p.m., and Karaoke with Helen "The Diva" McGuire!!!! returns at 10 p.m.


Sunswell, a men's line of performance wear made from super-soft, lightweight fabrics, and Hedge, a fashionable line of women's wear that transitions easily outdoor activities to cocktails and dinner, are teaming up for a Hamptons Poolhouse Pop Up this summer. The Hedge & Sunswell Poolhouse Pop Up (168 Main Street, Sag Harbor) will be open on Friday from 4 to 6 p.m. and Saturday from 9 to 11 a.m. and 4 to 6 p.m., with a portion of the proceeds benefiting Sag Harbor Cinema and Peconic Baykeeper.

Local favorite Lynn Blue is headlining Wolffer Wine Stand's (3312 Montauk Highway, Sagaponack, 631-537-5106, www.wolffer.com) sunset set on Friday, while Saturday will feature Diego Campo. Both concerts start at 5 p.m.

The Surf Lodge's (183 Edgemere Street, Montauk, 631-483-5037, thesurflodge.com) Summer Concert Series will feature Small Black on Friday and Mt. Joy on Saturday. Both sets begin at 6 p.m.

Sylvester Manor Educational Farm (6B Nicoll Road, Shelter Island, www.sylvestermanor.org) is hosting a Shakespeare Cocktail Fundraiser on Friday from 6 to 8 p.m. Admission is $100 and the evening will support Shakespeare at the Manor.

Montauk Yacht Club Resort & Marina (32 Star Island Road, Montauk, 631-668-3100, www.montaukyachtclub.com) will welcome Sturdy Souls on Friday from 6 to 9 p.m., Steel Drum on Saturday from 11 a.m. to 3 p.m. and Chuck E. Band from 12:30 to 4:30 p.m. Sunday will feature DJ Anthony from 11 a.m. to 3 p.m.


Smokin' Hot Tunes at Townline BBQ (3593 Montauk Highway, Sagaponack, 631-537-2271, www.townlinebbq.com) on Friday will feature Paul Fried from 6 to 9 p.m.

Break out your "Kiss Me I'm Irish" tanks because Beach Bar (58 Foster Avenue, Hampton Bays, 631-723-3100, beachbarhamptons.com) is hosting a St. Patrick's weekend in the summer on Friday. Celebrate the luck of the Irish with green beer, shamrock shots, Erin go Bragh, big pipers, DJ Doug O'Mara – yes, he's Irish, a special guest appearance by Fots Beats, and yes, kilts are optional.

Swallow East (474 West Lake Drive, Montauk, 631-668-8344, www.swalloweastrestaurant.com) will have music from The Realm on Friday, Booga Sugar on Saturday, Konekt Dat on Sunday, and Kathleen Fee on Tuesday.

AM Southampton (125 Tuckahoe Lane, Southampton, www.amsouthampton.com) is hosting a Winter Wonderland – Christmas in July-themed Friday night party with music from Dalton. On Saturday, Rick Wonder is spinning during Celebrity Saturday's at AM.

Gurney's Montauk Resort & Seawater Spa (290 Old Montauk Highway, Montauk, 631-668-1804, www.gurneysmontauk.com) will have music from Anthony Batista, Oli Benz, DJ Stef Nava, Rakiem Walker Project, Wilki, Mike Nouveau, and DJ Coco Robert, and a Sweaty Betty Pop Up Shop.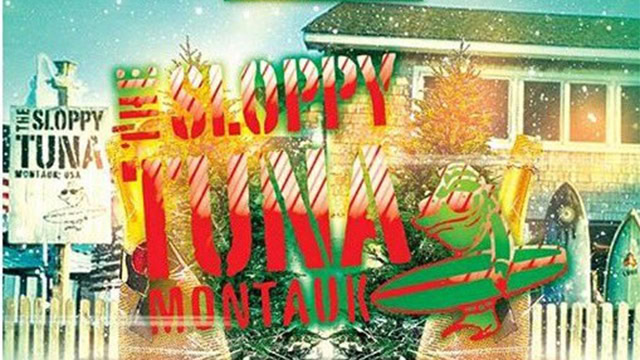 Christmas is coming a little early this year in Montauk as the Sloppy Tuna (148 South Emerson Avenue, Montauk, 631-647-8000, www.lisloppytuna.com) is hosting its annual Christmas in July Party on Saturday. Attendees will enjoy reindeer shots all day, a costume contest – so dress in your holiday best – music by DJ Drazen, and more.

AM Southampton is once again presenting The Neverland Brunch Series at Kozu (136 Main Street, Southampton, www.facebook.com) on Saturday from 2 to 6 p.m.

Eastville Community Historical Society of Sag Harbor is presenting its annual family-fun annual event, an Old-Fashioned Fish Fry, at Eastville Heritage House (139 Hampton Street, Sag Harbor, eastvillecommunityhistoricalsociety.com) on Saturday from 4 to 7 p.m. Admission is $25 and dinner, beverage and dessert will be provided.

Enjoy the sunset with cocktails and hors d'oeuvres at Breakwater Yacht Club (51 Bay Street, Sag Harbor, lgbtnetwork.org) during LGBT Network's, a non-profit organization serving Long Island's LGBT community since 1993, Sunset On The Harbor on Saturday from 5 to 8 p.m.


Toast to the Antigua Barbuda Hamptons Challenge Regatta during a Caribbean Beach Party under the tent at Haven's Beach (Haven's Beach Road, Sag Harbor, www.eventbrite.com) on Saturday from 5 to 8 p.m. The Antigua Barbuda Hamptons Challenge Awards Party, benefiting i-tri, will feature great music, food, wine and beer, as well as Regatta prizes – including the Grand Prize trip for winning Captain and Crew of 5 to compete in the 2018 Antigua Sailing Week.

Cornell Cooperative Extension's Marine Program is hosting Back To The Bays Day At Shuckers (58 Foster Avenue, Hampton Bays, ccesuffolk.org), an evening of music, art, and shellfish, on Sunday from 4 to 7 p.m. Admission is free and proceeds will support the Marine Program's projects and programming at the New Tiana Bayside Facility.

An opening for Know Your FISHerman, an exhibition showcasing the Know Your Fisherman portrait series and local fish species art show – because #localseafoodmatters, will take place at Montauk Lighthouse (200 New York 27, Montauk, montaukoceansinstitute.org) on Sunday from 6 to 8 p.m.