South Fork Natural History Museum (SoFo) in Bridgehampton hosted its first annual Climate Change Forum and Benefit on Saturday, June 6th to share research and discuss creative solutions related to global climate change impacts on the East End.

The forum featured notable names from the world of environmental studies, including Michael B. Gerrard, Andrew Sabin Professor of Professional Practice at Columbia Law School; Carl Safina, who was named by Audubon Magazine among "100 Notable Conservationists of the 20th Century;" Jack Rivkin, Chief Investment Officer of Altegris Group, an alternative investment firm headquartered in La Jolla, CA; and Assemblyman Steve Englebright. Guests were encouraged to contribute to the discussion by asking questions relating to each individual's research.

"There are a few things about [climate change] that are not so bad, but there are more things about it that are bad," summarized Carl Safina, who has authored a number of books on the topics of our changing oceans and the relationship between humans and their environment. Among the effects of climate change that Safina has observed on the East End are rising sea temperatures, an increase in the air temperature, which disrupts the migration patterns of many local bird and fish species, and erosion along the coastline. "Our view of the shoreline as just a nice, benign place to have a house right next to is going to change; it's going to be a riskier place [to live]," said Safina.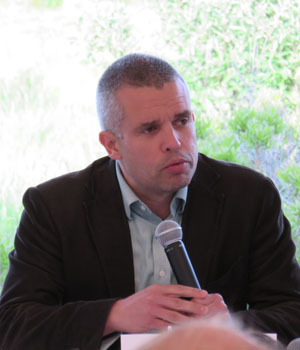 Michael B. Gerrard, director of the Sabin Center for Climate Change Law, expressed his concerns about the rising sea level and how it could affect life for East End residents. "The central range of projections is that the level of the ocean off of Long Island in the 2020s will be about 6 inches above what it is now, but it might be 10 inches," noted Gerrard. "By the 2050s, the central range is around 15 inches above what it is now but might be around 30 inches, depending largely on what greenhouse gas emissions are." He went on to discuss the increasing risk of storm surges as a result of rising sea levels and temperatures and how expanding flood maps could affect the development of the area for generations to come.

As for what East End residents can do in response to these changes, Jack Rivkin believes it is of the utmost importance to first recognize the cause. "Whether you're on the spectrum of there's not much we can do about [climate change], or you believe it is a human problem caused by us, it doesn't matter," shared Rivkin. "There is a risk that it is being caused by us, and if we don't do something about it, it could be very bad."

Safina can only recommend adjusting to the changes. "There isn't really anything that we can do in the short term," he said. "The climate of the earth is changing because of the energy that the entire world runs on, and those are really big things and they're really long term things."

Proceeds from the event will support the Museum's new Climate Change programming, which will launch in the fall.

South Fork Natural History Museum is located at 377 Bridgehampton/Sag Harbor Turnpike in Bridgehampton. For more information, visit www.sofo.org.