Crush Curatorial is pleased to present Territory, an exhibition of abstract artists with ties to the East End of Long Island. The show is not only visually beautiful, but also has an impactful double meaning. Territory's name refers to an area of knowledge or experience, the artists' voice in their work, or their "territory." It also geographically refers to an area of land with regard to a specific characteristic.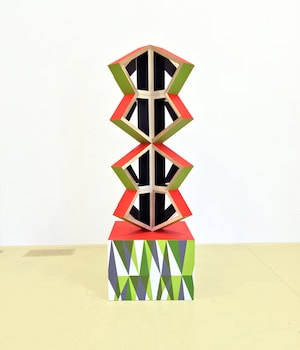 Territory will be on view Saturday, June 18th, Sunday, June 19th, Saturday, June 25th and Sunday, June 26th from 12 p.m. to 6 p.m., and also by appointment. Community members are also invited to the exhibit's opening reception on Saturday, June 18th from 5 p.m. to 7 p.m.

"The inspiration behind Territory was to bring together a community of abstract artists through an artist curated exhibition," explained Henry Brown, a co-curator of Territory. "The name Territory was chosen to represent the artist's voice in their work, their territory, as well as the geographic area."

Brown, Karen Hesse Flatow, and Li Trincere are responsible for the organization of the show, but there will be several other artists featured, including Eric Brown, Amanda Church, Don Christensen, Peter Dayton, Gabriele Evertz, Janet Goleas, Erik Gonzalez, Christian Haub, Charlotte Hallberg, Gregory Johnston, Bill Komoski, Lauren Luloff, Rory MacArthur, Chuck Manion, Lola Montes, Drew Shiflett, Christine Sciulli, Taro Suzuki, Ryan Wallace, Tad Wiley, and Almond Zigmund. The amount of talent in this exhibit is unfathomable.

Crush Curatorial is an artist-run curatorial project founded by Karen Hesse Flatow in 2013. Since her opening exhibit, Crush Curatorial has collaborated with artists and guest curators to host exhibitions in New York's Chelsea Gallery district and now in our very own Amagansett.

"The viewers will see stylistically diverse abstract artwork in a variety of mediums brought together in a large cohesive group exhibition," said Brown. "The exhibit is being held in a renovated potato barn with a concrete floor and drywall interior."

Territory specifically focuses on abstract artists in the 21st century. Long Island's thriving art scene has fostered an incredible workspace for these artists.

"Territory is an opportunity to see abstract work by artists currently involved in Long Island's East End art scene," added Brown. "The viewers will see work by some familiar names and learn about new artists as well."

Crush Curatorial will take place at 68A Schellinger Road in Amagansett. For more information, visit www.crushcuratorial.com.