This summer, Frank DeCarlo and Dulcinea Benson, the owners of Manhattan's Peasant and Bacaro, are bringing a little slice of Italy to the North Fork.

On Friday, June 2, the restaurateurs will launch Barba Bianca (which translates to "White Beard"), a coastal Italian seafood restaurant that will utilize the freshest locally grown, raised and caught ingredients to highlight Chef DeCarlo's simple Italian fare. The new Greenport eatery will be suspended directly over the water overlooking the Peconic Bay, housed in a former coal shack that was part of the historic S.T. Preston & Son Ship's Chandlery.

"The cuisine at this restaurant goes beyond farm to table," explained Chef DeCarlo. "I source all of our produce and proteins from the North Fork, from farms, foragers and fishermen within a 5-mile radius. But what I often love cooking with most is what can be found even closer to home, right off our restaurant's dock."

Many of the options will feature local "junk" fish, which despite its delicious flavor is often disregarded by commercial fishermen, such as whelk, razor clams, Mantis shrimp, bluefish, skate and eel.

The menu will showcase traditional meals from Liguria, Puglia and Sardegna – fare similar to what the local fishermen in these seaside Italian regions might nosh on after a long day at sea. Dishes will change frequently based on what's readily available, however, patrons can expect options like bright antipasti such as Fiore di Zucca (zucchini flowers, ricotta, anchovy dressing) and Insalata di Mare (seasonal seafood salad), and a selection of primi piatti including Bucatini con Cicale di Mare (bucatini with mantis shrimp) and Spaghetti con Granachio (blue claw crabs), as well as secondi piatti, such as Atlantic Orata alla Griglia (whole-roasted porgy, caponata), Coniglio Fritto (fried rabbit, carrot salad), and much more.

The intimate 60-seat dining room embraces its incredible location with white beadboard paneling that is lined with vintage photographs of white-bearded fishermen. While diners wait for a table, they can grab a drink at the outstanding Quartzite-topped black and gold bar that features black shiplap and vintage nautical oil paintings. For those who prefer to dine outdoors, the umbrella-lined 40-seat outdoor deck offers unbelievable sunset views of Shelter Island.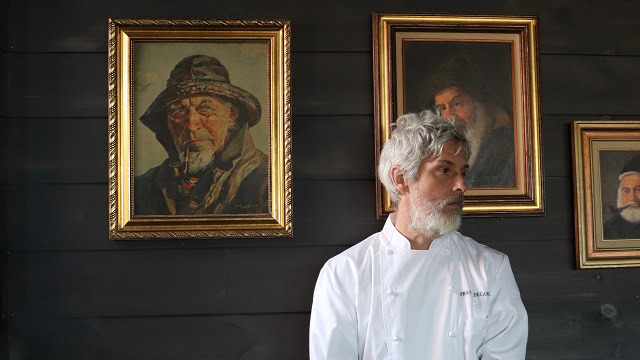 Barba Bianca will be open for dinner Thursday through Tuesday from 6 p.m. to 12 a.m., with sunset apertivi on the dock offered daily from 4 to 6 p.m. As this is a restaurant inspired by Italy, Barba Bianca will present a late afternoon special that includes complimentary cicchetti, which may be fried smelts, crisp polenta cakes with crab, or other savory bites.

Barba Bianca is located at 102 Main Street Wharf in Greenport. For more information, call 631-333-2600 or visit www.barbabiancany.com.